I know the purists may choke on their coffee on reading the title of this post, but I wanted to try and find a way of getting a portable sat nav in the car.
I suppose it is getting used to having one at hand on every journey in your everyday vehicle. A couple of journeys when I had kept stopping to check a map had also proved how lazy I had become in this technological age. I also had a newish Garmin unit which was not being used, so it made sense to try something.
Most of the commercially available GPS mounts are either suction cup types or clip to fresh air vents. The latter was clearly a non starter so I looked at a few suction cup mounts. I did not want it on the windscreen – it is small enough as it is. The "dash top," such as it is, is not wide enough and would also interfere with vision. The dashboard itself has a "crackle finish" and most of the suction mounts I tried lasted about two seconds on it. I didn't really want to fix something permanently to it, but then came up with another option.
I discovered this Garmin ball mount at RAM Mount, which is like the standard suction mount without the sucker. I realised that if it was mounted to the fuse box cover, effectively upside down, the angle  would still allow the Sat Nav to sit under the dash, between the passenger's knees. It would swivel enough to be seen direct by the driver too.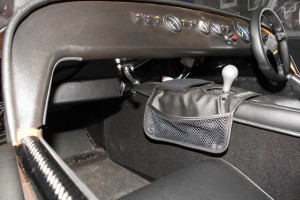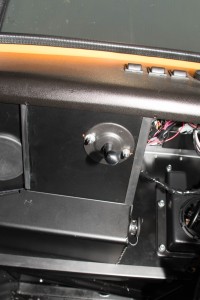 I was happy to drill a couple of holes to mount it permanently as I could always just buy another fuse box cover to return the car to its new state.