Derek's suggestion of putting a centre punch into the brass washer on the front brakes to earth in indicator sounded a bit drastic to me. I reckoned that it was worth removing the brake line from the calliper and rubbing the faces of the connections with wet & dry along with the brass washer. It would mean re-bleeding the brakes, but as I was doing it on my own I could try the Gunson Eezy-Bleed kit I had bought before the build. It also meant putting the car back up on the axle stands.
I had also ordered two replacement rubber gaiters from Caterham like the ones covering the FARB ball joints as I figured they would be good for covering the top wishbone lock nut. I also got a couple of seeing rack IVA covers which I though could be adapted to cover the brake line unions.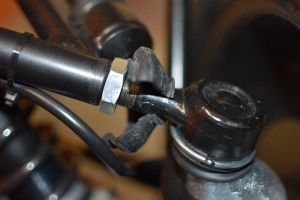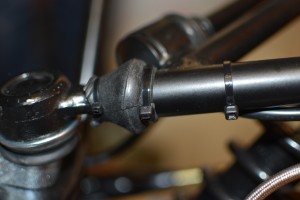 Having roughened the edges of the brake union I reassembled it and the indicator worked!
I then set up the eezy-bleed kit and lead the brakes. It was really quite straightforward, using the air from one of the tyres to pressurise the system. Having cleaned up all the joints I set about cutting the various rubber covers to fit. The ARB gaiters worked really well on the top wishbone. I ended up using one of the rubber caps that came in the IVA kit to do the bodywork end of the brake line having punched a hole in it and cut it open down one side to get it over the hose.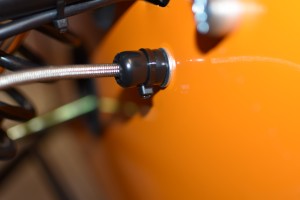 A standard 13mm plastic nut cover with a 5mm hole drilled through the top then slit sown one side fitted the inside balance pipe bolt perfectly.
As the car was back on the stands I decided to underseal the wheel arches. I had read that this provides a degree of protection from stone chips, reducing the starring of the fibreglass from underneath. It only took half an hour or so to dawb it on and I ended up applying two coats.
Finally it was back on with the wheels and off the axle stands. There were only four items outstanding which would need to be dealt with at the PBC:
Torque up rear hub bolts – they were only done to 210NM
The radiator cooling fan started running as soon as the engine started rather than being thermostatically controlled.
There was a tiny leak from the temperature sensor into the submarine t-piece – almost as if a gasket was missing
The front spring damper unit mounts had been tightened, but had not been torqued to the correct level