Team Ivans – two middle aged men deciding to build a Caterham Super 7 in 2014.
John, (me) aka Vesmeister is the James May of the partnership. Everything needs to be planned to the last detail, but there is a danger that nothing ever gets done.
Carl, aka Tudorev is definitely the Jeremy Clarkson. From the word go he was more concerned with the size of hammer he needed. Reading the manual, which certainly indicated that certain sections of the build needed a little "assistance," merely whetted his appetite.
Before going further I must make a confession. When I was a teenager I had a burning desire to build a kit car.
The only problem is the car I really fancied building…
A Dutton Sierra.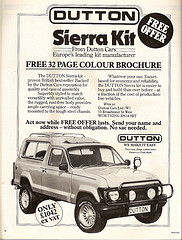 Nowadays it might be called a "soft-roader." Based on the running gear of a Mark 2 Escort it was a poor man's Talbot Rancho, which itself was a poor man's Jeep or Land Rover.
What appealed to me more was the physical aspect of building it. The means as opposed to the ends. I guess that constructive streak stayed with me. I always got more of a kick from the doing rather than the results.
For fifteen years I distracted myself with a TVR. I loved the noise, British heritage and quirky unreliability of it. However the longer I owned it, the less I used it. It became more of a millstone that a milestone. Finally the head overruled the heart and I sold it.
Then my thoughts turned to building a Caterham. I had driven one a few times and loved the direct, kart-like handling. The double garage at our house would provide the perfect build facility. The fact that this was a proper car, as opposed to a kit-car also appealed.
In early 2014 I decided I was going to go for it. A casual conversation with Carl prompted a serious interest from him as a "business partner." The rest will, hopefully, be history.